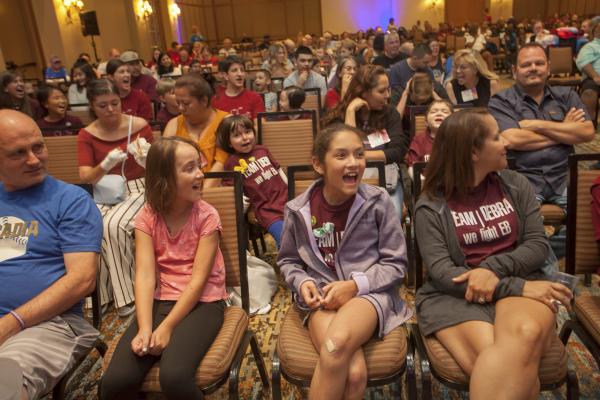 The debra Care Conference (DCC) is one of the world's largest gatherings of those with Epidermolysis Bullosa (EB) and their caregivers, advocates, healthcare professionals, researchers and partners.
Every other year, this group is brought together for 4 days of family-friendly fun and an invaluable educational experience. debra of America enlists the country's top medical experts in Epidermolysis Bullosa (EB) to present best practices, strategies, and research updates that help families succeed in caring for their loved ones impacted by EB. 
Drawing over 700 participants, the debra Care Conference (DCC) includes educational sessions, children's playrooms, social activities and exhibits from leading bandage manufacturers and products & services essential and supportive of those with EB. 
As the debra Care Conference (DCC) moved to a virtual platform for 2020, debra of America is pleased to announce our next in-person conference is scheduled for July 17 – 20, 2022 in Denver, CO!
While we will continue to monitor future COVID-19 developments, we look forward to hosting the nation's largest event for EB Families again next year.
---
2022 DCC Details
July 17 – July 20, 2022 (with hotel stays until the 21st) 
Denver, Colorado 
Omni Interlocken Hotel
---
Virtual Meet-Ups and Events
debra of America will be continually hosting educational and social meet-ups through-out the year on EBconnect.org. All events and session recordings from the 2020 Virtual debra Care Conference are also available to view. Sign-up is free and open to all of those directly impacted by EB! 
Create a free EB Connect account
Topics covered include:
Clinical Trial Updates 
Covid-19 & EB 
EB Simplex Management 
Eye Care 
Genetics 
Managing Anxiety 
Medical Supply Distributors 
Nutritional Management 
Occupational Therapy 
Oral Care 
Pain & Itch 
Physical Therapy 
Preventative Monitoring 
Pure Form Omega 
Research 
Skin Infections 
UrgoTul